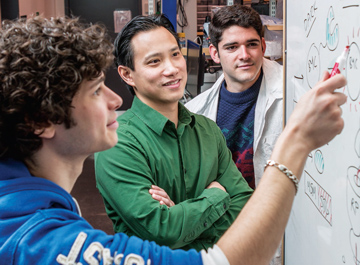 Transferring to Penn Engineering From Another Institution
Transferring to Penn Engineering could be the best decision you ever make. Whether you are new to Penn or new to Engineering, here you will find a wealth of opportunities to engage in the most innovative and interdisciplinary education and research.
How To Apply
All transfer applicants need to select a major when applying. Applications are processed through the Office of Undergraduate Admissions.
Visit the the University of Pennsylvania's Office of Admissions site for more information.
Important to note:
The University does not admit freshmen at mid-year.
Students who leave college at the end of their first term may apply to the freshman class entering in the subsequent September.
Students who are completing their senior year of high school concurrently with their first year of college should apply as freshmen.
External Transfer students entering in Fall 2020 and earlier must follow the appropriate 40 course unit course planning guide.
Incoming sophomore transfer students are eligible to apply for a dual-degree program with the College after completing one year (eight course units) at Penn or for a dual-degree program with Wharton after one semester. Applicants should follow, as closely as possible, the courses outlined for the major.
External transfers admitted to the School of Engineering and Applied Science are not eligible to transfer again within the University.
Students holding undergraduate degrees in science-related fields are not encouraged to pursue a second degree, but should consider a graduate degree.