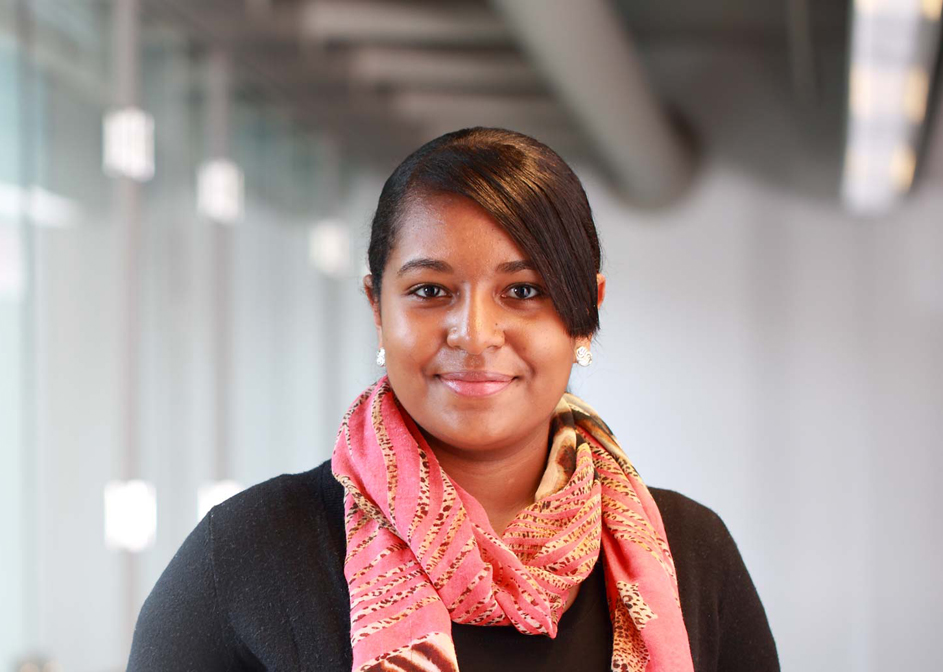 Shafag Idris
| | |
| --- | --- |
| Major: | Electrical Engineering |
| Hometown: | Tucson, Arizona |
| Activities: | Kod*lab robotics lab, Peers Helping Incoming New Students (PHINS)/Undergraduate Admissions Office, West Philadelphia Tutoring Program |
| Interests: | Pottery, LEGOs or anything else to build with |
| Goal: | To work on electronics in control systems for military aircraft |
Why Penn Engineering?
There were many reasons I chose Penn. One was the opportunity to do research. There are so many professors willing to have students come into their labs and try all kinds of projects. In other schools, you pick an area and are stuck with it; here, you can try different things and figure out what you actually like to do.
I came to Penn Engineering undecided about my major, so I took Engineering 101 (EAS 101). This course included segments on all branches of engineering, bringing in different faculty every Thursday night to talk about the courses required, types of research conducted, and industry jobs available. This was really helpful in realizing Electrical Engineering is the best fit for me.
I also applied for submatriculation so I could get a broader background and take higher level courses, getting my master's degree in Electrical Engineering. My goal is to work on electronics in control systems in things like fighter jets and other military planes or drones. In high school, about a quarter to a third of the class joined some branch of military service. If I can help them through my work, making their time abroad easier, it will give me a great sense of job satisfaction.
How is life different for you at Penn?
In high school, my main focus besides academics was community service, and that commitment has traveled with me to Penn. I'm excited to share what I've learned with others just coming into Penn, so I'm part of PHINS, and I'm mentoring incoming freshman engineering students. I'm telling them about what I didn't know at first and would have wanted someone to tell me.
One of the big changes being in Philly vs. Tucson is how close together everything is here. Back home, a suburban city block could be two miles long. Here you can easily see your neighbors. I found SEPTA to be amazing – taking the train felt like being on a roller coaster that could take you places. There's no public transportation in Tucson. SEPTA trains and the subway are fast and fun. I can also get on a bus. In two or three hours, I can be in New York City, Baltimore, or Washington, D.C.
What are some of your outside interests?
I took a pottery course as a random choice, but it turned out to be really fun. It was so calming that I found myself in the pottery studio watching the sun rise multiple times. Now I'm determined to join a pottery studio when I graduate.
In my freshman year, I would go to the gym or go running. Now I'm too involved in other things, like the robotics lab, tutoring, and mentoring. I also get involved in events, such as helping out with the First LEGO League youth robotics championship competition at the GRASP Lab in engineering.
What advice would you give those about to enter college?
Penn has a lot of different activities and experiences to offer its students. The mere magnitude of it all can be overwhelming, so don't worry too much about jumping into everything all at once. There's more to college than grades. You have to accept that eventually you will do poorly in something. Rather than get bummed or stressed out, find the help you need and work to do better next time.
You will enjoy college much more if you try new things, meet different people, and go out and see what's beyond the campus. Philadelphia is an amazing city with great things to do – like First Friday at art galleries and Restaurant Week – things you probably won't have the opportunity to do anywhere else.
So get involved and don't be afraid to try something different.