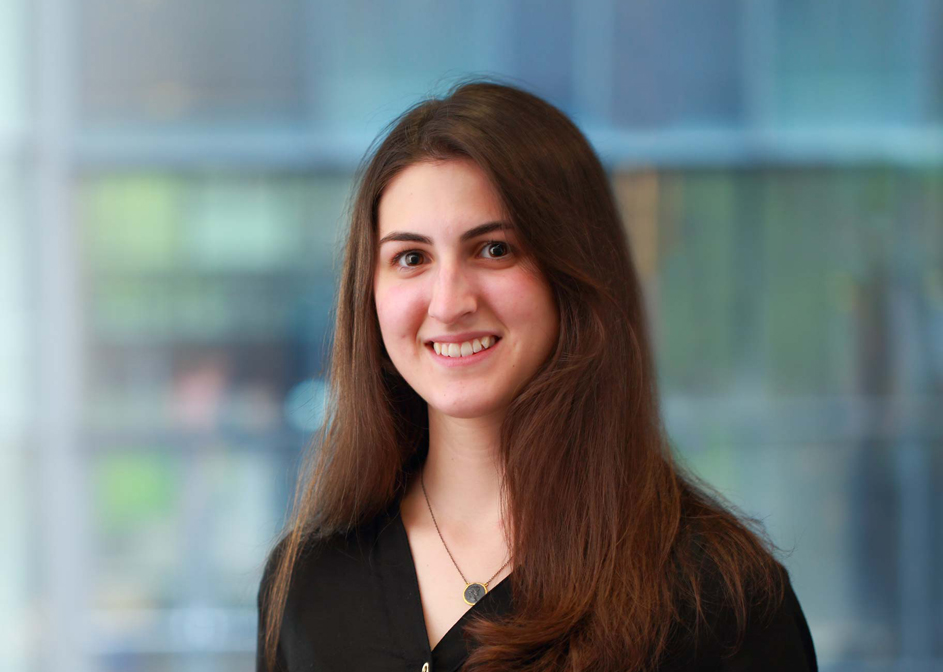 Chloe LeComte
| | |
| --- | --- |
| Major: | Systems Science and Engineering |
| Hometown: | Bedford, New York |
| Activities: | Engineering Dean's Advisory Board (EDAB), engineering chair for Class Board, fundraising chair for Theta Tau Engineering Fraternity, Advancing Women in Engineering (AWE) |
| Interests: | Tennis, violin, food, workouts at the gym |
| Goal: | To work in logistics in the retail industry |
Why Penn Engineering?
I chose engineering because I've always loved math and science. It just clicked for me. While I like history and English, I find them too frustrating – there are just too many possible answers. With math and science, it's more concrete, and I'm more of an analytical and systematical thinker.
I visited Penn in the spring of my senior year for the admitted students day, and it just felt right. Now that I am here, I really love being a student at Penn Engineering. Being in an environment with other students who are passionate about learning and their extracurriculars makes Penn a unique place. The people at Penn are truly special, and I cannot imagine my college experience anywhere else.
How have you become involved in life at Penn?
When I was in high school, I was really into student government. At Penn, one of the first things I joined was Class Board, a part of student government that focuses on planning spirited events for the class. It's nice to be with students from all over Penn, because it gives me a broader perspective on the college and what it offers.
I joined Theta Tau, the co-ed professional engineering fraternity, which combines professional and social aspects. This has helped me with resume and interviewing skills, and the great network of engineers gives me insights into courses I should take and study tips. There's a lot of friendship and a cohesive brotherhood. I'm the fundraising chair, and we held an engineering sweatshirt sale. It was a lot of fun to see students walking around campus wearing the sweatshirt my committee created.
I'm also on EDAB, where all different engineering majors meet with the deans to work on projects to enhance the engineering school and student life. There's good two-way communication, and I've gotten to know a lot of deans and administrators. And I'm part of AWE, which is great for having a sense of community as a woman in a male-dominated field.
I'm only here for four years, and I want to make the most of my time and leave a lasting impact for students to come.
Where might your engineering interests take you?
This summer, I'm interning at Urban Outfitters, Inc. I've always loved fashion, clothing, accessories, and online shopping. I was encouraged to apply to the internship program by a systems engineering alum, and I'll be working in global transportation and logistics. My dream is to be in the retail industry and combine my work with logistics.
What advice would you give those about to enter college?
You don't know how hard engineering will be before you get here, and that can be kind of a shock. What you learn from hard courses is to figure out when you don't know something and ask for help. You can study in groups, talk to your professors, and basically learn how to deal with the struggle. This has prepared me for whatever comes down the road. I figure if I can get through calculus, I can get through anything. Just stick it out, stay committed, and remember that you can do it. Things may not go as perfectly as you hope, but you won't be alone. Just be positive and persevere.