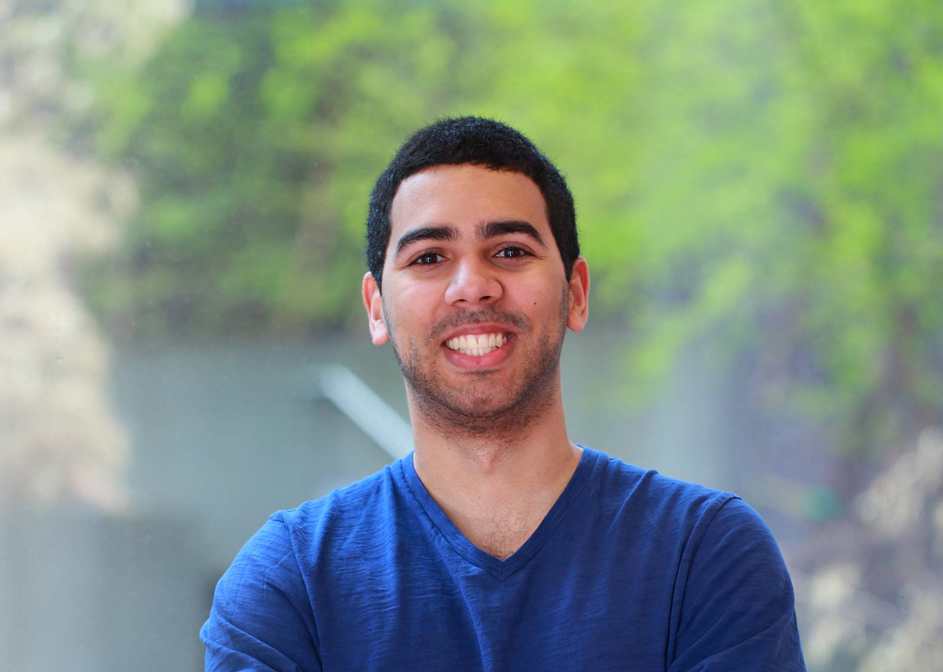 Giordano Salvador
| | |
| --- | --- |
| Major: | Computer and Information Science |
| Hometown: | Bronx, New York |
| Interests: | Reading about technology, games, electronics |
| Goal: | Apply to a PhD program and eventually work in designing hardware and software |
Why Penn Engineering?
When I was touring schools, I began seeing a lot of the same things. What really drew me to Penn was the curriculum. CIS allowed more freedom with electives, and the classes have a good mix of theory and programming. There's also a lot to get involved in within the CIS community – like the PennApps Hackathon.
The most important aspect of what Penn offered was research. This is where Penn really differentiated itself. Here you can reach out to professors and have access to their labs. There are experts you can email, talk to, eat with – and they have lots of information to help you along with what you want to do.
I'm in the submatriculation program, so I'll get my bachelor's in CIS and a master's in Embedded Systems simultaneously. A lot of professors tell you outright that you get the most bang for your buck this way. In terms of career, there are more opportunities available with both degrees. For me, the attraction was being able to take classes offered at the higher level. While I love my undergraduate classes, there are a lot of really interesting graduate classes I felt I needed.
How did your interest in engineering develop?
My dad is an engineer, and I've been playing with computers since I was a toddler. When I was 3 years old, I got a computer for playing games. From there on, I began to spend my time fiddling with computers. You'd be surprised how far a child will go for entertainment and to play video games. I learned how to load software; when something would crash, I figured out fixes.
I was curious about how computers were built, how graphics engines were built. At Penn, CIS completes the loop of understanding what's behind the video games and the content you enjoy in your free time. Gaming was my introduction to that world; it isn't necessarily what I want to do, but it was enough to get me started.
How is life different for you at Penn?
I really like Philly. I'm one of those New Yorkers who tries to stay away from big crowds. I don't think going to school in New York would have been a good idea for me. Philly is close enough to be affordable to get home and far enough away that my parents can't come knocking on my door. It's a good mix between being a pretty big city with lots to do, while being less busy and less crowded than New York.
I'm an anomaly here in that I don't do much in terms of getting involved in student clubs. I haven't wanted the distraction. I unwind by reading about hardware, technology, games – all that kind of stuff – because that's what really motivates me. This lets me pick and choose what I want to learn; I decide what I'm going to build and then learn about it.
A lot of my friends are engineers, but I don't hang out with just CIS. My friends are from all the engineering disciplines. We just hang out; it's not anything specific to our interests.
What advice would you give those about to enter college?
Someone once told me that in college free time is a farce. This is time you should spend doing something you like and studying. No one is there to hold your hand and tell you what to do. You have to learn how to organize yourself and, related to that, to learn how you learn. Lectures are not as interactive as they were in high school, and you might miss something. Eventually, you have to learn how to teach yourself.