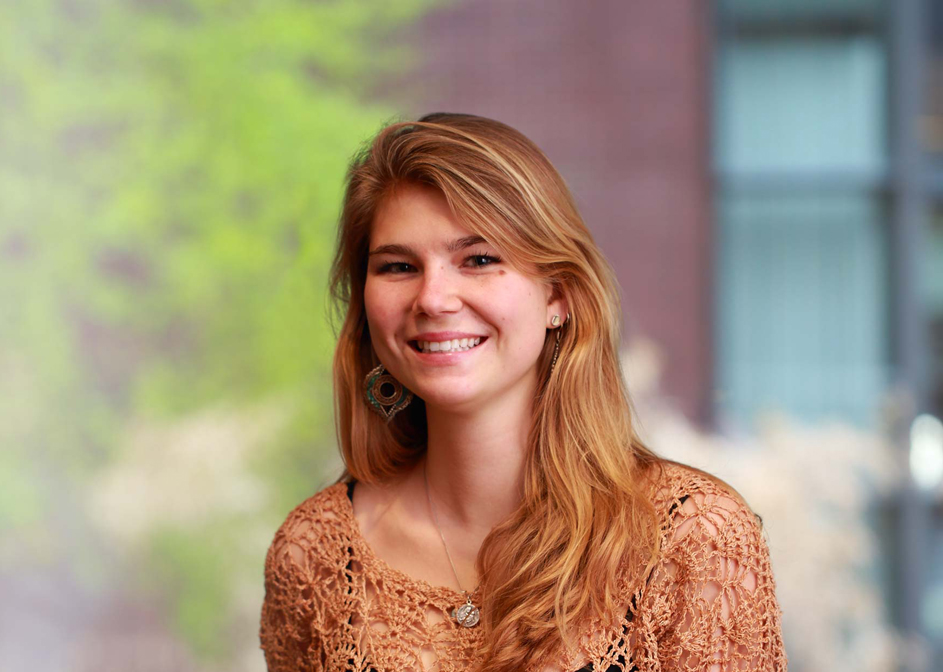 Morgan Snyder
| | |
| --- | --- |
| Major: | Digital Media Design |
| Hometown: | Berwyn, Pennsylvania |
| Activities: | V-Day UPenn, a social justice movement to heighten awareness about violence against women and girls |
| Interests: | Performing arts, music, trumpet |
| Of Note: | Member of "Sweet Bites," one of six teams competing for the 2014 International Hult Prize in New York in September |
Why Penn Engineering?
Both my parents are engineers – and that's the reason I never thought I was going to be an engineer. But when it came time for me to apply to college, I realized engineering is a discipline where you can come away with a concrete skill set to solve problems in the world. I was excited to learn these skills and attracted by the potential to have an impact on society.
I haven't always been driven by goals, and I came to Penn Engineering with no idea about major or even if I could stay in engineering. I was good at math and science, but engineering was like a big black box where I didn't know what I was getting into. I had a lot of conversations with Amy Calhoun, the director of Integrated Studies, and I became very excited about DMDt. I'm a visual learner, and with DMD I can model things, while combining my interests in math, technical thinking, and art. You get to go very deep into the subject and can be an expert by senior year.
How did you get involved in the Hult Prize, which has been called the Nobel Prize for students?
After freshman year, I took a year off to work in Bangalore, India, with an organization that helped empower children through life skills education. My work involved setting up the infrastructure to collect data that could drive better decision making and also solicit donations.
Fast forward a year, and now what I learned in India and at Penn is coming together with the Hult prize. My team came up with a simple solution to address the problem of oral disease in a culturally acceptable way, so that it would promote uptake. Sweet Bites is a sugar-free chewing gum sweetened with xylitol, which has dental health benefits. Our idea is to employ local women to distribute the gum, along with medical information.
Our team won the regional competition in Boston against 45 other teams. This summer, the six finalist teams competing for the $1 million in seed capital go through an accelerator program in Boston. Then our team goes to India for three weeks to pilot the program, where we can test proof of concept and get feedback from the community we'll be serving.
How is the academic life for you at Penn?
A lot of engineering students take the same first year courses, and that's great because you meet other freshmen. Some of my best friends are the ones I maintained study groups with for these classes.
At first, I was surprised by how accessible the professors are, especially considering the size and research capabilities of the university. The pre-professionalism – that focus on going to school to get a good job – was hard to get used to, but it does ground you in a way that doesn't happen in high school. If you have dreams like I do, to solve problems in the real world, pre-professionalism makes you think about your future path and helps you become more organized and realistic.
What advice would you give those about to enter college?
My high school European Literature teacher told me to always keep the capital "I" in mind whatever I do. She said to maintain a sense of self, to not let the expectations of the world peg me into a corner, and to be open to transforming myself by taking on different roles and tasks in life.
When I came to Penn I didn't box myself in by saying "I'm going to be a chemical engineer and solve the water crisis." Instead, it was, "I am Morgan, let's see who inspires me here, who I meet, and what I can do." If you stay open to experience, it can be telling; and it helps to surround yourself with people who inspire you.