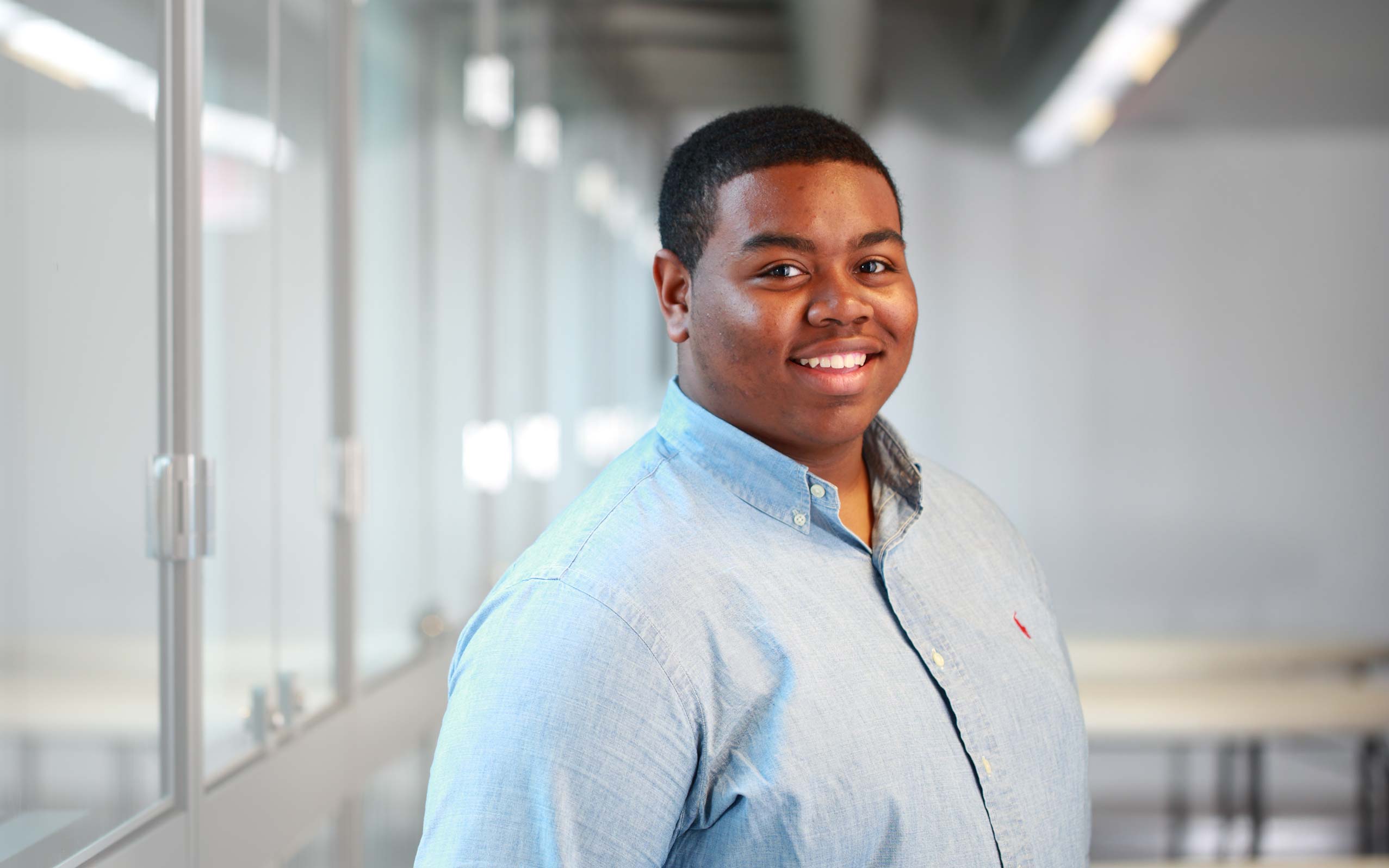 Sylvester Tate
| | |
| --- | --- |
| Major: | Computer Engineering |
| Hometown: | Olive Branch, Mississippi (a suburb of Memphis, Tennessee) |
| Activities: | Engineering Student Activities Council (ESAC), National Society of Black Engineers (NSBE), Theta Tau engineering fraternity, Penn Faith and Action |
| Interests: | Football, bowling, writing poetry |
| Goal: | To conduct research in the field of artificial intelligence |
Why Penn Engineering?
I've always had a particular interest in computers. My dad owned a small computer business, and I grew up around the tech side of things. I chose the Penn Computer Engineering program because I could pursue my interest in both hardware and software. I wouldn't necessarily have to spend all my time coding; I could go to the lab and create circuits and hardware and that type of thing.
Additionally, I'm looking forward to the opportunity to get a minor in Engineering Entrepreneurship. Penn is a business-minded school, so I'm able to pursue engineering with a business mindset. Maybe I can take my dad's business to a whole new level. My real aim, after getting experience working in other companies, is to head back to Memphis and open an innovation lab as an entrepreneurial venture.
What role do mentors play in your college life?
I have several mentors. They're from computer science and electrical engineering. They help me anytime I have an issue or wonder who to talk to about something. They give me advice about how to navigate classes and which classes I should take. They tell me about professors, so I'm prepared for what's ahead. My mentors have a background similar to mine, which also helps; knowing that they're succeeding motivates me and assures me I can do the same.
Our mentoring relationship isn't always about school or professional interests, sometimes it's just about life. We'll call each other to check in. They let me know what they're working on. They helped me adjust to being here. As soon as I joined NSBE, I was immediately asked if I wanted a mentor. Other clubs do that, too, so it's easy to find mentors. Many of the people in these clubs and fraternities are in my same major, so they can tell me what to expect in my Penn career – and that's an advantage I have here.
What are some of your extracurricular activities?
In addition to NSBE, which has been my main support system since I got here, I am a member of ESAC, which coordinates and finances all the engineering clubs. I'm also involved in Theta Tau, and I'm heavily involved in Penn Faith and Action. There are a lot of Christian organizations on campus, so you can easily find one tailored to what you want to get out of it. Penn Faith and Action has been a great support system, not just from a spiritual standpoint but it gives me another opportunity to network and to meet people outside of engineering. It hones your leadership skills and challenges you spiritually, and having that combination has benefitted me substantially.
What advice would you give those about to enter college?
Some of the best advice I got was to remove myself from my comfort zone in order to reach my full potential. For me, just coming from the Memphis area to Philadelphia was a pretty big transition, and it has definitely been worth it. I feel like I'm finding myself, finding out who I am aside from who my parents were or what anyone wanted me to be in Memphis.
I also think it's essential to take risks here and look into different things to find what your interests actually are. I had initially come in with a one track mind on computers and business, but I've also gained an interest in nanotechnology while I've been here. Penn lays a lot of opportunity on the table. You can look at things, pick them up, put them back down again – but sometimes you pick something you want to carry with you. You just need to try a lot of things initially and see what works for you.